URGENT SPINE CARE
THINK YOU NEED TO GO TO THE EMERGENCY ROOM?
Do you have back or neck pain causing pain, numbness and weakness so severe you can't function?
We reserve appointments so patients with urgent problems can be seen the same day.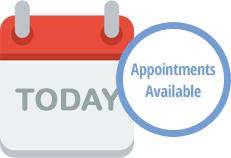 Everything necessary all in one convenient location to treat your pain; injections, surgery, medications, and braces. You don't have to spend hours in the emergency room or days waiting for a referral. Contact us today.